The new Katherine Johnson Technology Magnet Academy (KJTMA) was designed with an emphasis on technology, STEM, and outdoor learning. The school provides learning opportunities focused on robotics, coding, science, digital art, and music for 900 kindergarten through fifth grade students each year.
The two-story, 109,500-sf facility includes a media center that is surrounded by a variety of secure outdoor learning areas. The two-story media center anchors the building and was designed to blur the lines between indoor and outdoor space through the utilization of daylight, views, thermal comfort, and materials.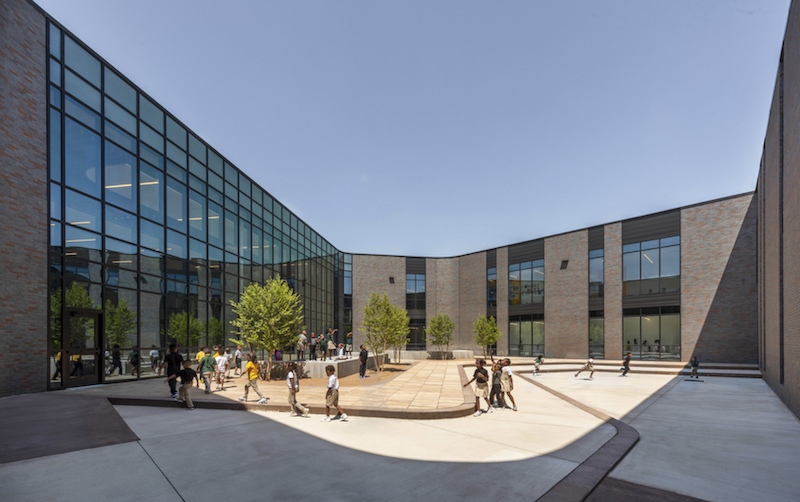 Courtesy KJTMA
Grade-level rows of classrooms surround the building's core. Flexible collaboration zones with operable acoustic glass partitions link the classroom corridors with the media center and outdoor environments.
See Also: Chapman University opens new science and engineering center
A binary code pattern was applied to the exterior building fenestration meant to mimic robotics and coding principles and provide an interior corridor experience that facilitates student visibility and interaction. The building's interior features a space travel theme that connects content to the programmatic offerings in the adjacent spaces. For example, lessons about gravity are located near the gym, while a moon buggy is displayed near robotics. Dynamic QR codes embedded in the wall graphics enable students to access supplementary information through their school-issued iPads. Teachers can alter the content tied to the codes at any time to accommodate age ranges and subject matter.