This fall, Penn State University could start site planning for the first commercial building at its Sustainability Experience Center, a 9.5-acre destination near famed Beaver Stadium in State College, Pa., which features technologies and facilities designed to support sustainability education.
The Sustainability Experience Center, whose origin dates back to the early 2000s, currently includes a solar house, greenhouse, community gardens with nearly 100 plots, power plant, and wind turbines. In 2009, Penn State added an Eco Machine, a series of tanks teeming with live plants, trees, grasses and algae, koi and goldfish, tiny freshwater snails, and diverse microorganisms and bacteria, all of which are designed to eat and break down waste to create clean water.
Penn State is also home to The Sustainability Institute, founded in 2013, which supports sustainability efforts for the university's 13 colleges and 24 campuses through student and staff engagement, curriculum development, community projects, operations, and research. The Institute's work plan is based on the 17 sustainable goals that the United Nations has agreed upon. Those objectives—11 of which are socially oriented—comprise the framework, with indicators and metrics, for the university's sustainable programs.
"Our goal is to put Penn State and Pennsylvania on the map as global sustainability leaders," says Paul Shrivastava, the university's Chief Sustainability Officer and Director of The Sustainability Institute. He notes that Pennsylvania Gov. Tom Wolf is also the chancellor of the university, which as a land-grant school is obligated by law to be a steward of the environment. "We are taking a Commonwealth approach," says Shrivatava.
An academic entrepreneur, Shrivastava came to Penn State about a year ago from Future Earth, where he was Executive Director of this global research platform with 50,000 employees that coordinates new, interdisciplinary approaches toward sustainable transformations.
During his tenure with Future Earth, one of the construction projects Shrivastava was involved in was a 13-story, LEED Gold-certified building in Montreal that, he now concedes, "was obsolete the minute it opened" from a sustainability standpoint because it didn't fully take into account the environment surrounding it. That taught Shrivastava that "no building alone can promote sustainability. Buildings must be part of larger eco systems," he says.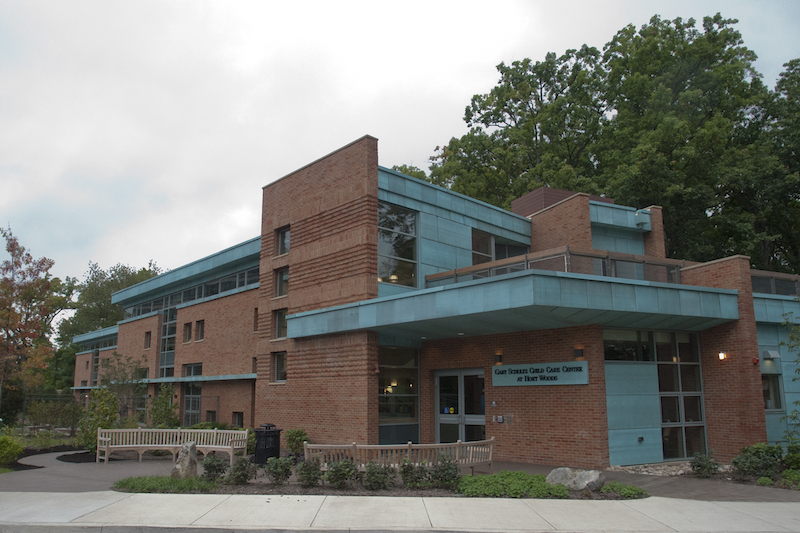 The 21,500-sf Gary Schultz Child Care Center at Hoyt Woods on Penn State's University Park campus is LEED Platinum certified. LEED is now the minimum standard for all new construction on the university's 24 campuses. Image: Patrick Mansell
For a place as vast as Penn State, that's easier said than done. Over the past several years, every new building has met LEED standards at a minimum, and there are several LEED Silver-, Gold-, and Platinum-certified buildings on its campuses.
The building being considered for the Sustainability Experience Center would meet more-rigorous Living Building Challenge standards. "We are already thinking 'eco system' here," he says. The building—which would include classrooms, labs, and offices—requires fundraising to initiate design and construction, so if all went as planned it probably would take five years before it's up and running, says Shrivastava. (The university has yet to select AEC firms for this project.)
Meanwhile, Penn State continues to move forward on its sustainability path. Each college's dean and each campus' chancellor is responsible for guiding that journey through mentoring, identifying standards, and bringing resources to the table. (Penn State, whose annual budget is $5.6 billion, also owns an airport and hotels, "so there are a lot of moving parts," says Shrivastava. He adds that the university's sustainability framework is broad enough to accommodate difference campuses' needs. "There's no 'one size fits all.' ")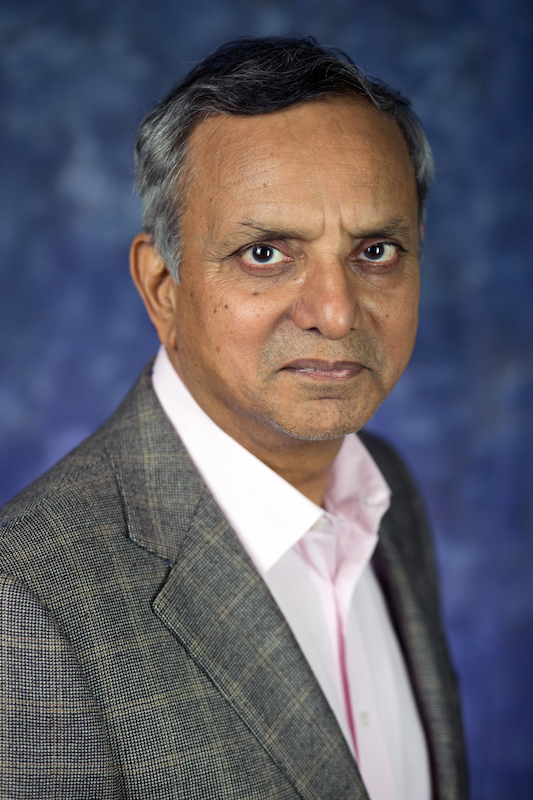 Paul Shrivastava, Penn State's Chief Sustainability Officer, is striving to make the university and the state  of Pennsylvania global hubs for sustainability that goes beyond building construction to incorporate social goals. Image: Penn State University
The university is also working with the private sector. Shrivastava points, by way of example, to PepsiCo, the multinational food and beverage supplier, which has an exclusive contract with Penn State. Shrivastava says that PepsiCo has agreed to invest $100,000 per year for the next 10 years to support sustainable ventures such as a student farm.
He adds that building and construction companies "are always wanting to use Penn State to test new technologies." These have included Siemens and Bechtel. And developers "are eager to support this kind of phenomenon."